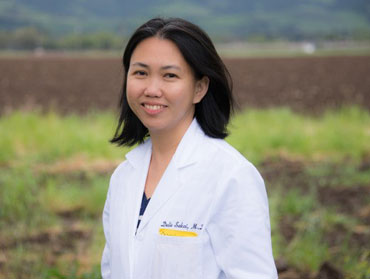 Dr. Maria Delie Ty Jumagdao-Sakai is a gifted family physician who treats patients at Gilroy Family Medical Group, in Gilroy, California. Dr. Jumagdao-Sakai provides a wide range of care for conditions, including asthma, allergies, hypertension, high cholesterol, and arthritis, as well as preventive services through annual physicals for patients of all ages, pediatric care, senior care, well-woman exams, sports physicals, and more.
Dr. Jumagdao-Sakai was born and raised in the Philippines and attended St. Luke's College of Medicine in Quezon City, Philippines, before serving her internship at St. Luke's Medical Center. When she moved to the United States, she completed her medical training with a family practice internship and residency at the Natividad Medical Center in Salinas, California. She completed further training with a geriatrics fellowship at Stanford Hospital and Clinics in Palo Alto, California.
Dr. Jumagdao-Sakai enjoys developing relationships with patients of all ages and is inspired by each person's unique story and wealth of life experiences. She speaks several languages, including Tagalog, Bisaya, Waray, and Spanish. She became a physician so that she could truly help people to lead healthier happier lives and fulfills her dream daily. In her free time, Dr. Jumagdao-Sakai enjoys spending time with her family.
On time, friendly and professional!
Patricia Ann J.
Great and friendly staff.
Norman R.
Dr Sakai always listens and discusses different options
Samantha P.
Very Caring Staff
Kathy B.
Very thorough and comfortable
Mary H.
The Staff and Doctors are nice especially Dr. Sakai.
Matthew M.
Dr Sakai is always a pleasure to see . She listens and gets to know you as an individual . I'm very pleased to have her as my primary care physician .
Rita R.