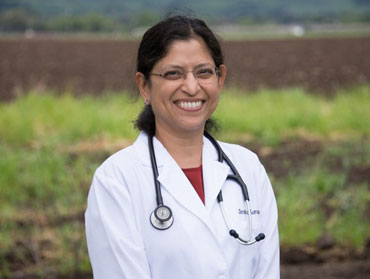 Dr. Smitha Kumar is a compassionate and thorough physician, treating patients from Gilroy, California and South County at Gilroy Family Medical Group. Dr. Kumar provides an extensive range of services to her patients including treatments for asthma, allergies, hypertension, high cholesterol, and arthritis. She also offers annual physicals for adults, children, and seniors, as well as well-woman exams, and sports physicals.
Dr. Kumar grew up in South India and earned her pre-med and medical degrees at the Tashkent Medical Institute in Tashkent, Russia. After practicing medicine in India, she relocated to the United States with her husband and completed her family medicine residency at the Natividad Medical Center through the University of California San Francisco Medical School residency program. She is fluent in Spanish and has worked with Hispanic communities for many years.
Dr. Kumar has always wanted to practice medicine. She listens carefully to her patients and offers customized care to address their concerns and needs.
Dr. Kumar has been voted "Best of Gilroy" for a 3rd year – 2018, 2019 and 2021.
On Time and Friendly staff. Never felt rushed in or out! Dr Kumar listened and answered all of my questions.
Kathleen A.
Office is very organized, neat, clean and well staffed. Dr. Kumar is most attentive, takes her time to listen to your concerns, always very courteous and friendly. I came to this area knowing no one and she was referred to me by another doctor. She has proven time and again to be a knowledgeable professional that puts the patient first.
Carolyn F.
I get excellent care and solid medical advice from Dr. Kumar. She takes the time to make sure I have all the facts and understand the issues before discussing treatment options. She's a great doctor.
Henry S.
Dr. Kumar is great! And the office staff are also great!
Joseph L.
Dr. Kumar was very friendly and responsive to my concerns.
Muriel F.
Dr Kumar is very thorough and answers any questions you may have. Staff is very friendly as well.
Criselda D.
On time, friendly and professional!
Patricia Ann J.
Great and friendly staff.
Norman R.
Dr. Kumar is a good listener and partner in improving my health.
Deborah S.
I was very impressed with the patients and understanding of Dr kumar. Thank you
Tiffany L.
Very Caring Staff
Kathy B.
Very thorough and comfortable
Mary H.
Love Dr. Kumar. Very quick and professional
Margaret C.
Great attentive thorough doctor! I can always get an appt. thanks dr. Kumar!
Robin W.